Novenas
Ven. Casimir Wyszynski Novena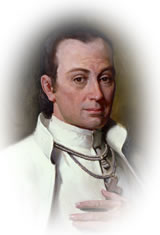 Date:
Tuesday, October 12, 2021
End Date:
Wednesday, October 20, 2021
The Venerable Servant of God Father Casimir of St. Joseph Wyszynski was born August 19, 1700, near Warsaw, Poland.
While making a pilgrimage to Rome's churches and carrying out works of mercy, a young Wyszynski learned that his brother (who was in the Marian novitiate) had caused harm to the new Order. Wyszynski declared, "I want to make up for what my brother ruined," and he asked to become a Marian.
As an ordained priest in Poland, he showed ardent devotion to the mystery of the Immaculate Conception and active care for those suffering injustice. He also zealously worked for the beatification of the Marian founder, Fr. Stanislaus Papczynski (1631-1701) — who was recently beatified (Sept. 16, 2007).
Fr. Casimir Wyszynski helped the Marians grow as an international community, and founded the Marian monastery at Balsamao, Portugal. He died there October 21, 1755, in the opinion of sanctity.
Many report graces obtained through the intercession of Fr. Casimir. Even today the Portuguese call him "Santo Polacco" — the Holy Pole.
Date:
Wednesday, October 13, 2021
End Date:
Thursday, October 21, 2021
The first feast day of the Great Mercy Pope, Saint John Paul II, is Oct. 22.
In preparation for the celebration, we've begun a special novena that extends from Oct. 13 through Oct. 21. We encourage you, through this novena — drawn from the official prayer of the Diocese of Rome — to ask for the intercession of Saint John Paul II and Our Blessed Mother for the New Evangelization of the Church.
In light of the new challenges the Church faces in the contemporary world, Saint John Paul II said it is the "supreme duty" of the Church to "proclaim Christ to all peoples" (Redemptoris Missio, 3.)
Together in prayer, let's follow his call. On behalf of my fellow Marians and Marian Helpers around the world, I invite you to join in this novena as we pray that the Light of Christ may shine ever more brightly to all the corners of the world. You'll find below that on each of the nine days, we have chosen a specific intention for the New Evangelization.
— Fr. Joseph, MIC Director of the Association of Marian Helpers
Oct. 13: Our Holy Father

Oct. 14: Our Bishops

Oct. 15: Our Priests and Deacons

Oct. 16: Religious and Consecrated

Oct. 17: Lay Apostles and Teachers O

Oct. 18: Married Couples and Families

Oct. 19: The Youth

Oct. 20: Sick and Suffering

Oct. 21: All Souls Novena

Oct. 22: Happy Feast Day of Blessed John Paul II.
If you missed a day of this novena, fear not. Read this.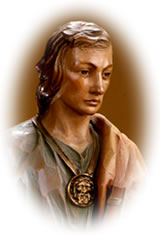 Date:
Tuesday, October 19, 2021
End Date:
Wednesday, October 27, 2021
Feast Day:
Thursday, October 28, 2021
St. Jude — the "Worker of Miracles" and "Patron of Hopeless Causes" — is invoked in desperate situations. Yet in his New Testament letter, he exhorts the faithful to persevere despite adversity. He writes: But you, beloved, build yourselves up in your most holy faith; pray in the Holy Spirit. Keep yourselves in the love of God and wait for the mercy of our Lord Jesus Christ that leads to eternal life (Jude 20, 21). According to one popular story, St. Jude was entrusted with an image of Jesus. He delivered it to a king of Edessa, who was suffering from leprosy. The king was cured, and the king and his people became Christians. For this reason, the saint is usually portrayed with an image of Jesus as a medallion on his chest, as well as a tongue of fire, indicating his receiving the Holy Spirit at Pentecost.