Our Lady of Mount Carmel Novena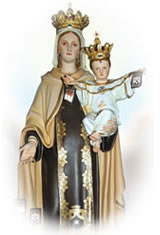 Our Blessed Mother appeared to St. Simon Stock at Cambridge, England, on July 16, 1251. Saint Simon, a Carmelite monk, was pleading for Our Lady's intercession for the Carmelite Order, which was under oppression.
In response, Mary appeared to him with a scapular in hand and said, "Take, beloved son, this scapular of thy order as a badge of my confraternity and for thee and all Carmelites a special sign of grace; whoever dies in this garment, will not suffer everlasting fire. It is the sign of salvation, a safeguard in dangers, a pledge of peace and of the covenant."
This special protection Our Lady grants is not for the Carmelite Order alone, but for all who wear the scapular out of devotion to the Mother of God. The scapular should be worn as an outward sign of the cloak of grace and love the Heavenly Mother bestows on us, her faithful servants.
Pope John Paul II demonstrated his faithfulness to this devotion. He received a brown scapular the day of his First Communion, and he wore it from that day on through the rest of his life. In 1958, while an auxiliary bishop visiting a Wadowice monastery, he proclaimed this practice and devotion. "Amongst many devotions that captivated my child's soul, I participated the most ardently in the novena before the feast of Our Lady of the Scapular."
The Marians at the National Shrine of The Divine Mercy will offer a Novena from July 7-15 with a Holy Mass on the Feast of Our Lady of Mount Carmel, July 16. We invite you to have your intentions remembered.