Ven. Casimir Wyszynski Novena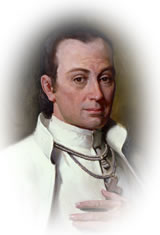 The Venerable Servant of God Father Casimir of St. Joseph Wyszynski was born August 19, 1700, near Warsaw, Poland.
While making a pilgrimage to Rome's churches and carrying out works of mercy, a young Wyszynski learned that his brother (who was in the Marian novitiate) had caused harm to the new Order. Wyszynski declared, "I want to make up for what my brother ruined," and he asked to become a Marian.
As an ordained priest in Poland, he showed ardent devotion to the mystery of the Immaculate Conception and active care for those suffering injustice. He also zealously worked for the beatification of the Marian founder, Fr. Stanislaus Papczynski (1631-1701) — who was recently beatified (Sept. 16, 2007).
Fr. Casimir Wyszynski helped the Marians grow as an international community, and founded the Marian monastery at Balsamao, Portugal. He died there October 21, 1755, in the opinion of sanctity.
Many report graces obtained through the intercession of Fr. Casimir. Even today the Portuguese call him "Santo Polacco" — the Holy Pole.