Bl. Anthony & Bl. George Novena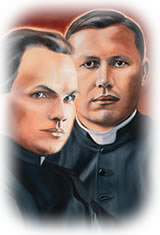 In February of 1943, in land formerly held by the Soviet Union, a church filled with detainees awaited a fiery death at the hands of Nazi soldiers.
Two Marian priests brought them hope and consolation.
Fathers Anthony and George, who also had been detained by the Nazis, were told they could go free and avoid the same fate as the people they had been serving.
Instead, both priests chose to stay with their people to the end, when they were burned by the Nazis in Rosica on February 17, 1943. The priests spent their final days hearing confessions, celebrating Mass, and baptizing converts to Catholicism.
Fathers Anthony and George were beatified by Pope John Paul II on June 13, 1999.
We now pray through the intercession of Blessed Anthony and Blessed George for your intentions.