St. Stanislaus Papczynski Novena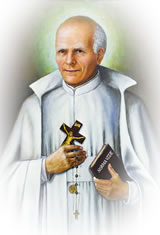 As a Marian Helper, you may have read about St. Stanislaus Papczynski, MIC, in our Marian Helper magazine or on our sites. He was the founder of our congregation, the Marian Fathers of the Immaculate Conception of the Blessed Virgin Mary.
The magazine also has published many letters of thanksgiving for graces received through St. Stanislaus's intercession. We know he is sill actively involved in bringing God's mercy to us. In particular interest this year might be the miracle which preceeded his canonization, in which he cured a woman dying of lung disease. Please see an explanation of the miracle here.
St. Stanislaus Papczynski died a little more than 300 years ago, but his work continues around the world thanks to the Marians and Marian Helpers like you.
Please join us in remembering this outstanding priest who let the Lord work through him.
Send your special intentions to be remembered in this Novena to St. Stanislaus.