Easter Octave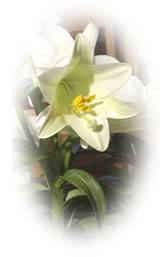 As we journey through this holy season of Lent — a time of prayer, repentance, fasting, and works of mercy — we retreat into a desert of our own making to find the real God amid the clutter and din of our life.
By observing these 40 days — from Ash Wednesday to Holy Thursday — we take part in a practice that is rooted deep within our Catholic tradition. We are called to prepare for the Easter Triduum and the realization of God's great love for each of us — a transforming, personal love that was demonstrated by Christ's death on the cross.
Although innocent and free from sin, He was condemned to death and suffered the Passion for us. He sacrificed His human body on a cross and died for each of us.
As we prepare for the resurrection of Christ — a central mystery of our Catholic faith — I invite you to share His gifts of love and mercy with those closest to you by enrolling them in our Easter Octave which starts on Easter Sunday and ends with the Feast of Divine Mercy at the National Shrine of The Divine Mercy.
If you like, a special card will be sent to your loved ones informing them that they have been enrolled in the Octave. In addition, a seven-day votive candle is also available. And, as always, our Congregation — the Marians of the Immaculate Conception — will remember your special intentions.