Divine Mercy Sunday
Shrine Announces Mercy Sunday Weekend Plans,
April 27-28, 2019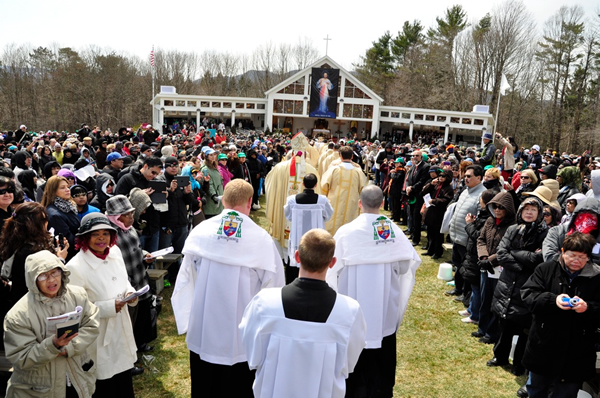 "This Feast emerged from the very depths of My mercy, and it is confirmed in the vast depths of My tender mercies. Every soul believing and trusting in My mercy will obtain it." (Diary of St. Faustina, 420)
We welcome all pilgrims who will be coming to Divine Mercy Sunday this year. These pages are here to help you prepare for your travels to Eden Hill for Mercy Sunday.
"May Jesus, who is our life and hope, pour out His Divine Mercy upon thousands of pilgrims who will be visiting us this Divine Mercy Weekend," says Fr. Anthony Gramlic, MIC, Shrine Rector. "We look forward to seeing them."
What to Expect
Two outdoor Divine Mercy Sunday Masses will be celebrated: the Vigil Mass on Saturday at 4:00 p.m. and Sunday's Solemn Liturgy at 1:00 p.m. at the Mother of Mercy Outdoor Shrine. Confessions will be available all day on both Saturday and Sunday in our Confession tent. The Solemn Divine Mercy Chaplet with Benediction will be sung on both days at 3:00 p.m. The Mass and the Chaplet will be televised live on EWTN.
On Saturday, there will be a Mercy Weekend Conference beginning at 10:00 a.m. in the St. Faustina Center. (Pre-registration required) On Sunday, there will be music and spiritual presentations beginning at 10:00 a.m. at the Mother of Mercy Outdoor Shrine.
The Shrine church will be open for pilgrims to visit. An Adoration tent will be available for Eucharistic Adoration and lighting of candles. Please visit our other candle shrines (Holy Family, Holy Innocents, and Lourdes grotto) for prayer, memorials, and lighting of candles. All are invited to walk the Stations of the Cross during the weekend. Please see our weekend schedule for more information.
On Saturday and Sunday, tents will be set up for prayer, activities, and groups associated with the Marians. Maps and programs are available at the Information Booths. In addition, food, port-a-potties, information tents, Masses and enrollments, and oil of St. Faustina will be available throughout the weekend. Medical Hospitality and lots of dedicated volunteers will be around all weekend to make you feel at home.
Weather
When it comes to weather conditions, expect anything and everything from mud to snow and ice, freezing temperatures, rain showers, wind, and sometimes, beautiful sunny weather. The weather in the Berkshires can change rapidly, even in one day. In addition, you will be outside all day so be ready for anything! Please be prepared! We suggest that you keep an eye on the weather forecast the week before Mercy Sunday and during the weekend. YOU ARE OUTSIDE ALL DAY - BE PREPARED!
Bus Registration
Motor coach buses must register in advance ONLINE. Please click here to register your bus. Registration begins Monday, February 4, 2019 and ends on Friday, April 5, 2019. Bus parking is limited to 185 buses and will close once we reach our capacity of 185. For questions, please email the Mercy Sunday Pilgrimage/Events Coordinator at [email protected].
All bus registration packets will be mailed by the middle of April regardless of when you registered. No bus parcels will be mailed out earlier, so please do not request them. Bus packets are typically mailed THREE WEEKS before the event
For safety reasons, buses are not allowed to stop, drop off passengers, then leave Eden Hill, downtown Stockbridge, or the satellite parking lots. No buses or drivers are allowed to leave the property once they are parked. Bus coordinators must inform the bus drivers/company of this, especially if coming from outside the New England area.
Parking information
Saturday
All motor vehicles, including buses, will be parked on Eden Hill on Saturday.
Sunday
All buses and volunteers will park on Eden Hill. All other vehicles will be directed to park on Eden Hill or the Monument Mountain Schools (on Route 7 south of Stockbridge) at the discretion of the Stockbridge police. Free shuttle bus service to the National Shrine will be provided for car pilgrims from the lots between the hours of 8:00 a.m. and 6:00 p.m. Once we have reached capacity, all other personal vehicles must park in satellite lots at the Monument Mountain Schools (on Route 7 south of Stockbridge).
Handicap parking and facilities
On both Saturday and Sunday, we offer designated parking areas on Eden Hill for those vehicles with state-issued handicap designation. Upon entering the grounds, the drivers of such vehicles will be directed by volunteer parking lot attendants to an available parking area. Due to the large volume of pilgrims this weekend, unfortunately there is NO handicapped transportation for the elderly or disabled during Mercy Sunday Weekend.
We highly recommend that you have a companion with you, especially if you are using a mobility service. Pilgrims should bring their own wheelchairs. However, we do provide a handicap section with designated seating and volunteers for the Mass. A handicap ramp is available for those in a wheelchair, and handicap accessible restrooms are available.
Want to volunteer?
We need approximately 600 volunteers for Divine Mercy Sunday weekend! If you would like to volunteer, please print out this form and mail it to the Volunteer Office or fill out this online form. If you have any questions, please contact the Shrine volunteer office at 413-298-1114 or e-mail [email protected].
Staying at home?
As always, we encourage the faithful to celebrate Divine Mercy Sunday in their own local parishes, since it is a universal feast day in the Church. You can also view the National Shrine's celebration live on EWTN (Eternal Word Television Network) or streamed later on YouTube. If you don't have a special Divine Mercy observance locally, consider asking your pastor to begin one. The Marians have resources that can help, including Celebrating Mercy Sunday. Call 1-800-462-7426 for more information, or visit Celebrating Divine Mercy Sunday in Your Parish: A Practical Guide