Immaculate Conception Novena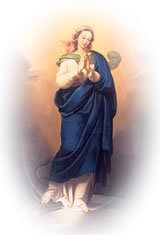 Date:
Friday, November 29, 2019
End Date:
Saturday, December 7, 2019
To honor Our Lady and prepare to receive the graces available on the Solemnity of the Immaculate Conception of the Blessed Virgin Mary, the Marians at the National Shrine of The Divine Mercy are offering this Novena. The Immaculate Conception was a frequent topic in the homilies and writings of Saint Stanislaus Papczynski, the Founder of the Marians — and this was some two centuries before the dogma would be proclaimed by the Church. He wrote: "I believe everything that the holy Roman Church believes … but first of all I profess that the Most Holy Mother of God, Mary, was spotless from original sin, from the moment of her conception." Saint Stanislaus recognized that Mary's redemption was the very masterpiece of God's merciful plan for the world. Among all human beings, she alone received the benefits of salvation in Christ from the very moment of her conception — a unique privilege derived from God having chosen her as Mother of the Savior.