Divine Mercy Novena Enrollment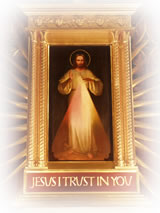 This is a very special time for us here at the National Shrine of The Divine Mercy as we prepare for our annual celebration of Divine Mercy Sunday. In the Diary of St. Faustina, Jesus asked that the Feast of Divine Mercy, known today as Divine Mercy Sunday, be preceded by a Novena to The Divine Mercy. A Novena is nine days of prayer in preparation for a feast. In the case of the Novena to The Divine Mercy, we pray the Chaplet of The Divine Mercy each day for a specific intention. Our Lord told St. Faustina, "I desire that during these nine days you bring souls to the fountain of My mercy, that they may draw ... strength and refreshment and whatever grace they need in the hardships of life, and especially at the hour of death" (Diary, 1209).
Please join us at the National Shrine as we follow our Lord's wish to bring to Him various intentions during our nine days of prayer. If you would like to enroll someone in the Novena, we will gladly send out an enrollment card to the person whom you have enrolled.