Current Novenas
Date:
Saturday, December 23, 2023
End Date:
Sunday, December 31, 2023
In the Hail Mary, we regularly address the "Mother of God." Mary gained this title by being the Theotokus — literally, "God bearer." The title "Mother of God" does not divinize Mary, but draws attention to the dual nature of Christ — truly God and truly human. The title also reminds us of her special role in bringing Christ to the world. Mary was petitioned as "Mother of God" at least by the 3rd Century, as is evidenced by the discovery of the Sub Tuum prayer: We fly to your protection O holy Mother of God, despise not our petitions in our necessities but deliver us from all dangers, ever glorious and blessed Virgin.
Christmas / Infant of Prague Novena
Date:
Saturday, December 16, 2023
End Date:
Sunday, December 24, 2023
Feast Day:
Monday, December 25, 2023
During the nine days before Christmas, the Marians annually celebrate a Novena of Holy Masses at the National Shrine of The Divine Mercy. Amid the distractions we face as Christmas draws near, this Novena helps us to take time to focus on the Incarnation's role in God's plan of mercy for mankind. As a way of preparing for this festivity in the Middle Ages, people used to offer novenas of prayers for nine days, recalling the nine months our Blessed Mother lovingly carried Our Lord in her womb. During the novena of prayers, people participated in common prayer so to enter more fully into the feast. Today, you may pray along with the Marians online daily. You also may send us your special intentions to have them placed near the altar during the Novena, or ask the Marians to remember someone in need of prayer. The Marian Fathers of the Immaculate Conception wish you a very blessed Christmas.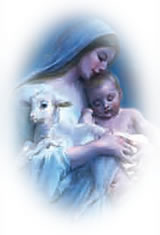 Date:
Monday, December 25, 2023
What a wondrous gift we all received on that first Christmas night more than 2,000 years ago! Jesus is the Greatest Gift not only because He frees us from our sins, but because He offers us eternal life. He gives us the grace to share in His own divine life. Every year, the Marian Fathers give thanks in Three Holy Masses on Christmas Day. We also remember and give thanks for our Marian Helpers. You, too, can offer the blessings of these Masses to people who have touched your life. Send us their names and your special intentions, and then send each of them one of our beautiful Christmas Gold Cards. Each of these exclusive cards brings with it a remembrance in our three Christmas Day Masses.
9am, 10:30am and 2pm Masses today.